vTag™ antibodies are monoclonal antibodies validated in vFC™ for the detection of surface markers on vesicles. These antibodies are specifically formulated to provide sensitive detection of vesicle cargo down to 25 molecules per EV in simple, no-wash assays.
vTag™ Antibodies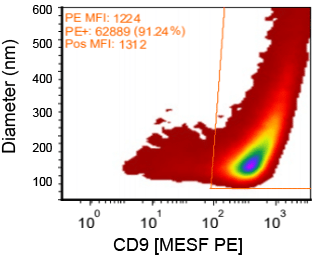 vTAG™ ANTI-HUMAN CD9 ANTIBODY
NO WASH, QUANTITATIVE CD9 MEASUREMENT BY vFC™
Select a product to see current stock levels.
Est. Limit of Detection:

30 Molecules per EV

Cargo analysis using vTag™ antibodies should be accompanied by a vesicle specific analysis method such as vFC™. vTag™ antibodies bundled with the vFC™ assay will be discounted 25%.

Certificate of Analysis

TDS
MSDS
$

105.00 –

$

275.00
We use cookies to ensure that you have the best experience on our website. If you continue to use this site we assume that you're happy with it. Dismiss